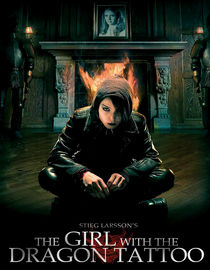 I recently finished reading
The Girl with the Dragon Tattoo
. So I was pleased to see that the movie was at the second run theater here in Madison. We went and both enjoyed it. It was surprisingly true to the book. Just an FYI it was quite violent (but so was the book), it was 2.5 hours long (but didn't seem like it) and it is of course subtitled (because this is the Swedish film). There is a Hollywood version in the works but I doubt it will be better. The actress playing Lizbeth was perfect. The other actors were less Hollywood pretty but I am sure they will be in the American version.
Journalist Mikael Blomkvist (Michael Nyqvist) and rebellious computer hacker Lisbeth Salander (Noomi Rapace) team up to investigate the unsolved disappearance of wealthy Henrik Vanger's (Sven-Bertil Taube) teen niece (Ewa Fröling), only to uncover dark secrets about Vanger's powerful family. Niels Arden Oplev directs this Swedish thriller based on the first novel from Stieg Larsson's best-selling trilogy. - Netflix
Even though we saw it in the theater I am sure you can get this at the library or Netflix. There is also a link to the right.